All4Walls Cleaning render & Stone Cladding Removal
Recently self-coloured cement and silicone-acrylic renders have become very popular for both new build and refurbishment projects. Renders such as K rend, Weber, Parex have replaced the so-called "made on site" sand and cement render.
Having a factory made or proprietary render installed can have big advantages.
However, Installers and manufacturers claims that coloured render systems are maintenance free or that the  render is self-cleaning should be taken with a generous "pinch of salt" Coloured renders and wall coatings can quickly lose their kerb appeal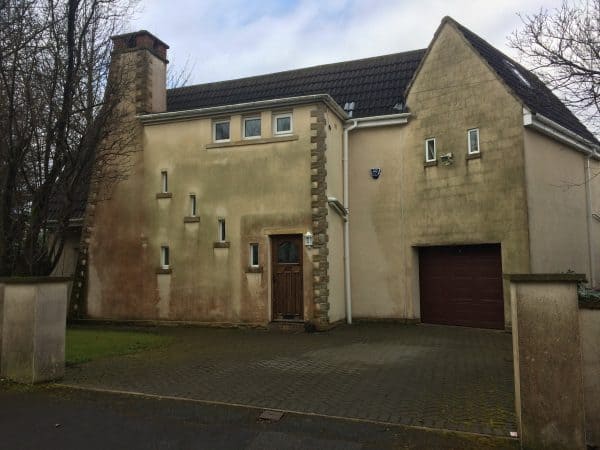 The picture of this K Rend (often called k render) was taken after about 5 years after being finished
 This cream self-coloured render was applied to a new build concrete (blockwork). We did not install this render, although we did provide an estimate for a 10mm base coat (2X5mm) with mesh reinforcement) and a final finish of 1.5mm textured silicone render. This would have been a much better finish as it would have kept much cleaner and had no pattern staining (blockwork outlines showing through).
The finish is  K- Rend self-coloured render, often believed to be maintenance free by many architects.Close proximity to trees has made this new coloured render shabby in no time. You will also note the shape and pattern of the blockwork showing through this is due to the render being applied too thinly. These pigmented or self-coloured renders can minimise the need to paint for many years but mother nature can quickly discolour and break down these renders. What was once an attractive weatherproof façade can quickly be turned into a shabby looking building. Even renders incorporating so-called self-cleaning Nanotechnology can quickly become soiled with dirt and organic growth. Often architectural details such as cornices,  window sills, defective copings stones and rainwater goods can cast water down the façade. This can exacerbate the effects of discolouration. Self-coloured renders and wall coatings can quickly succumb to discolouration if trees are close by. Render and wall coatings or paints can also get dirty by the effects of pollution, acid rain and bird droppings etc.
All4Walls can clean & disinfect all types of self-coloured or through coloured monocouche renders. 
We are able to clean K Rend, Parex, Weber, Sto (Monocouche render French, meaning so-called "one coat" render)
Careful consideration is given as to the methods used for each project. Using gentle pressure controlled warm water with special biocides we are able to clean and disinfect surfaces with fantastic results.
Covering most of the UK subject to the size and nature of your project.
Use our Contact form to get in touch or call us now on 0845 0946340 with details of your project.
Covering most of the UK subject to the size and nature of your project.
Projects involving the cleaning of render, removal of paint, render removal, removing stone cladding in order to establish the best cleaning methods, evaluate results and provide costs we offer a test patch survey service*.
Our contractors visit your property. During the survey, they actually clean a small area of your wall.
We then provide a written quotation for the cleaning and any other work required such as pointing etc.
Please email us with some basic information so we can provide a written cost for your test patch survey.
*This survey is chargeable.  Cost is subject to the location and size of the project get in touch so we can provide a cost for this service